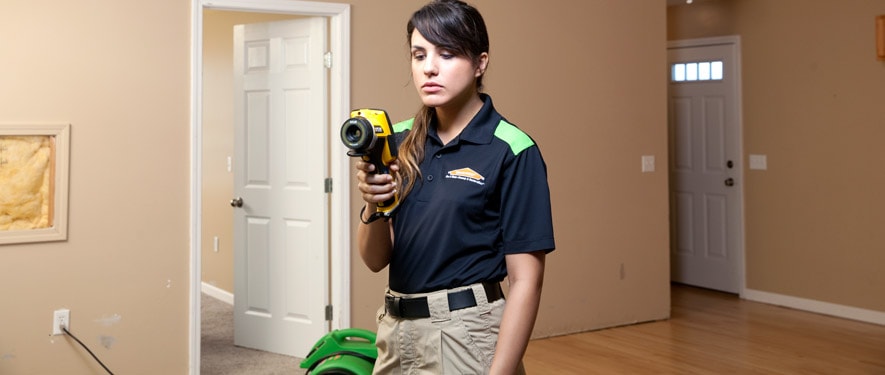 Step 2: Inspection and Water Damage Assessment
Our Water Damage Restoration Process
After we receive the call requesting our services, SERVPRO of Stone Oak will dispatch the closest technician to your home to inspect the damage. If you are unsure of pricing or coverage, we can also provide an estimate during this initial inspection, free of charge. During the initial inspection, we will review the damage, take measurements of the moisture levels in your home as well as moisture levels of various building materials that may be affected. The next part of the process is taking photos of the damaged areas so that our office will be better able to estimate how extensive the drying process will be. Our final piece of the initial inspection is a sketch of the affected areas, with exact measurements determining what percentages of each room are affected. Then our technician will relay all of this information to our office and if an estimate is requested we will provide one to you and your insurance company, again, free of charge!
Identify and Stop the Water Source
We will check for the source of moisture in your home or business. The source must be stopped before any restoration or drying of the building can be successful.
Stop the Source
Check for Contaminated Water
Identify the Type of Water
We will identify the category and classification of water damage to ensure our professionals restore your property based on industry guidelines. The level of contamination of the water will affect the specific restoration processes we use.
Category 1: "Clean Water"
Category 2: "Gray Water"
Category 3: "Black Water"
Survey the Extent of the Water Damage and Inspect the Premises
We inspect and test to determine the extent of damage and how far the moisture has traveled to ensure proper and complete restoration. In addition, we will inspect for safety concerns that may be evident. If there are any safety issues like lead or asbestos, please bring them to our attention.
Survey Damage
Complete Safety Inspection
Move or Block Furniture
We move furniture and property contents and block items to help prevent rust or furniture stains on wet carpet.