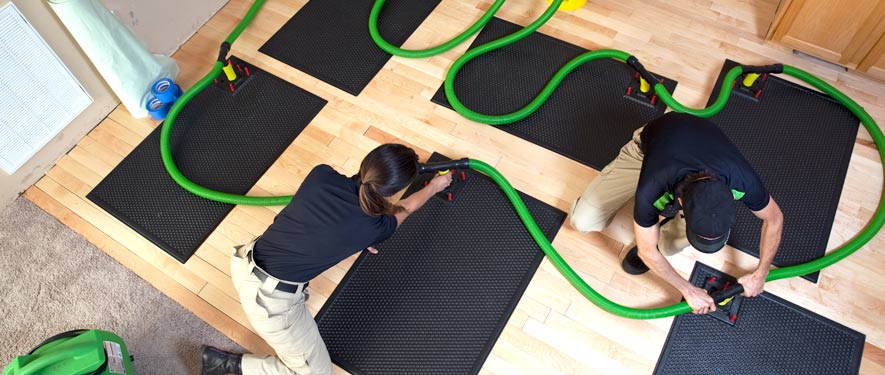 Step 4: Drying and Dehumidification
Our Water Damage Restoration Process
The drying process involves specialized equipment in order to ensure that every material is restored to the preloss condition. What does our drying process really entail though? Our technicians are all certified in water damage restoration, and with their extensive training in water damage restoration, they analyze the progress of your home daily. We place specialized commercial drying equipment based off of the IICRC requirements to ensure a controlled drying environment and we monitor the progress daily, adjusting the equipment as necessary to ensure that the drying is progressing as preferred. Drying building materials down to their natural moisture levels is actually an exact science, and we work hard every single day to perform our absolute best work on your home.
Drying / Dehumidification
Our Professionals will use room measurements, temperature, and relative humidity to determine the optimal number of air movers and dehumidifiers to dry your home or business. We'll carefully monitor the progress using moisture meters until the materials return to acceptable drying goals.
Use Dehumidification Equipment
Use Monitoring Equipment to Track Progress
Monitor Floor and Walls
We check the moisture levels to monitor the drying process. 
Monitor Floors
Monitor Walls
Drying Equipment
Industrial-grade dehumidifiers help prevent secondary water damage like swelling and warping of floors, walls, and furniture.
High-speed air movers create airflow across walls, carpets, pads, and furniture, which accelerates the evaporation of moisture.